http://wfmu.org/playlists/shows/26814
April 4, 2008: Annual WFMU Graf Special:
Graffiti Women feat. Lady Pink, Muck, & Toofly + photojournalist Karla Murray


Listen to this show: RealAudio | MP3 - 128K |
Pop‑up player! | Add or read comments

(Its an interesting discussion, you can fast forward through the music at the beginning if you wish, Ed.)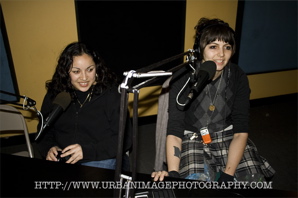 Toofly + MUCK @ WFMU photo by J&K who you can find @ www.urbanimagephotography.com

http://www.flickr.com/people/jimandkarlamurray/

Jim & Karla Murray's present group show is "The Carlton Arms Art > Project" > 195 Grand Street 2nd floor (between Driggs & Bedford Avenue in > Williamsburg, Brooklyn) > This show will be up until May and includes Jim & Karla Murray's > photography as well as canvases by the artist BANSKY and New York > graffiti artist CERN) > More info at: www.artbreakgallery.com > >

Jim & Karla Murray's upcoming show "Underground/Overground" at the > Artbreak Gallery will have an opening reception on Saturday June 7th > from 5-9PM > Artbreak Gallery is located at 195 Grand Street 2nd floor (between > Driggs & Bedford Avenue in Williamsburg, Brooklyn) > It is a collaborative exhibition featuring Jim & Karla Murray's > photography and works by the graffiti artist CERN, the street artist > Billi Kid and photography by Allan Ludwig.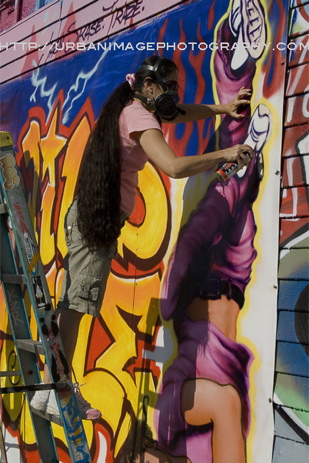 LADY PINK: www.pinksmith.com LADY PINK's present show "Brick Ladies of NYC" is at the AdHoc Art Gallery 49 Bogart Street in East Williamsburg with AIKO is on exhibit through April 20th. More info at www.AdHocArt.org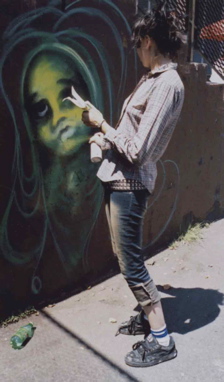 MUCK: http://web.mac.com/muckhouse Upcoming exhibit on May 3rd "Le Femme Sole" at the Fuse Gallery in Manhattan

TOOFLY: www.tooflynyc.com for event info visit TOOFLY's blog at:

http://www.tooflynyc.com/life/

Upcoming exhibit on May 3rd "Le Femme Sole" at the Fuse Gallery in Manhattan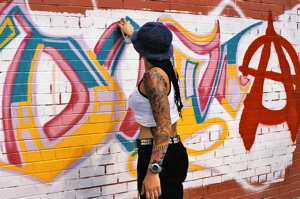 Special shout out to Dona - the fourth contributor to the Bronx Museum piece along with MUCK, Pink, & Toofly



==============================================




A new exhibit at the Bronx Museum of the Arts, "Making It Together," celebrates the collaborative efforts of feminist artists from the 1970s and attempts to inspire similar fervor and commitment today.



"Activism is never done,

" said

Lady Pink

, a New York City graffiti artist who collaborated with three other "graffiti girls,"

TooFly, Muck and Doña

, on a mural featured in the exhibit. "

There's always injustice.

"

The mural, titled

"Activism is Never Over,"

depicts activist women such as

Elvira Arellano

, a Mexican immigrant who founded

United Latino Family

(a group that lobbies for families at risk of separation because of deportation), and

Gloria Steinem

, a leading feminist who founded

Ms. Magazine

in the early 1970s. The painting also pays homage to future activists. A young black girl is featured prominently on the mural in neon green paint, Lady Pink's optimistic nod to strong young women.



"We're breeding our daughters to be stronger and tougher,"

she said.

Names and facts are painted across the mural as well.

"Long Live Benazir Bhutto"

is painted in bright green;

"150,000 American women die of anorexia each year"

is written in large black letters.

The collaboration among the four graffiti artists is in keeping with the theme of the exhibit, in

its tribute to feminist artists who used collaborative techniques to produce activist art between 1970 and1985

, a time of strength for the feminist movement.Most pieces are from women who worked in Los Angeles or New York, and include videos of theatrical performances, a collage from a protest against sexual violence and issues of

"Heresies,"

a magazine that was produced by women and featured different views on politics and art.

In the "pink room," where most of the exhibit is held, guest-curator Carey Lovelace encouraged visitors to think pink.

"Pink was embraced in its full association with femininity," Lovelace says.

The color features heavily in the main room of the exhibit. One piece, by artist

Sheila Levrant de Bretteville

, features squares of paper on which various women wrote their thoughts on pink. The responses range from a rejection of the color as being something for "infants" and "old ladies," to a description of four tubes of rouge, which were all different shades of pink, to a poem chronicling the role of pink in one woman's life.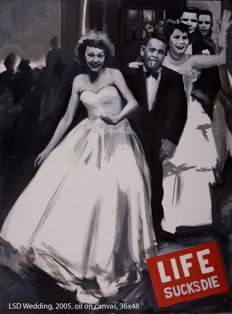 The exhibit is unique because

it is the first in New York that pays tribute to the innovative art forms created by feminist artists

, according to Camille Wanliss, a Bronx Museum spokeswoman.



"It's something the Bronx has not seen before, but it's also great for New York City as a whole,"

she said.

Visitors to the museum said

the exhibit is powerful because of its emphasis on the strength that comes from having a network of strong women.



Leah Coloff, a 42-year-old cellist from Park Slope in Brooklyn, said she feels that the idea of women's collectives is seen as "quaint" in today's society, but that she thinks many women would like to have such a network. The work at the exhibit "still resonates for me," she said. "Some ideas are slipping away and we're sometimes alienated from each other."

Lifelong Bronx resident Darcy Curran, 75, praised the intensity of the show.

"It seems to have a great deal to say," she observed. "It's shouting to say things to you."

"Making It Together" opened March 2 and will be on display through Aug 4.

"Highlights of the Permanent Collection: Women Artists" is also on display as a counterpart to "Making It Together."

The Bronx Museum is at 1040 Grand Concourse. For more information call 718-681-6000 or visit http://www.bronxmuseum.org/exhibitions/current.html.


By Casey Hynes

March 08, 2008
From Bronxbeat


==========================





"that German graffiti movie myself and Toofly were trying to remember name of is called "Pure Hate" and the best scene - where they arrive deep in the night in ninja like fashion ready to descend on a train with their spraycans is here on this YouTube link:" http://www.youtube.com/watch?v=NFuUs0VTFsU&feature=related