lichtenstein goes native

deconstructing lichtenstein

about





Among Lichtenstein's last works were several House sculptures. These evolved from his large-scale Interior paintings of the early 1990s and from work on an unresolved project with the technology of hologram projection that revived the artist's interest in play with inverted perspective. When the viewer observes House III (1997) on the Roof, it appears that the corner of the house projects forward, toward us. However, by walking around the work, we observe that the corner actually recedes, that our eyes have been fooled. The Museum provided landscaping for the sculpture, in accord with the artist's intention that House III be seen on a slight rise. The "folds" in the window curtains once again resemble brushstrokes, Lichtenstein's code for art itself.

House I,1996/1998
National Gallery of Art, Washington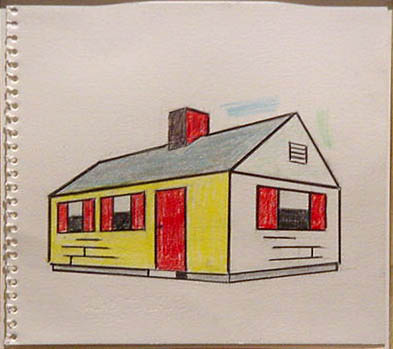 Roy Lichtenstein
House with Gray Roof
==============================================
Howard Arkley
the home show
48th Venice Biennale 1999
portrait of nick cave

link