John Russell,
Portrait of Van Gogh, 1886.
Van Gogh Museum, Amsterdam

more van gogh portraits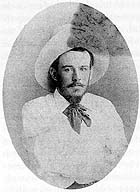 John Peter Russell ca. 1888

John Russell, who is often referred to as John Peter Russell, is the only Australian painter who can be considered a member of the Impressionist circle. A friend of Vincent van Gogh, Claude Monet and Émile Bernard, he developed strong links to the Parisian avant-garde in the late 1880s and 1890s.

His family owned a successful engineering works in Sydney, and Russell became a qualified engineer; however, on the death of his father in 1879 he came into a considerable inheritance, enabling him to pursue the study of art. He enrolled at the Slade School in London in 1880, under the distinguished French painter Alphonse Legros.

In 1883 he travelled in Spain with his Melbourne-born friend Tom Roberts, and from 1884 made his home in Paris, becoming a pupil at the famous Atelier Cormon, a private school of art founded by the academic master Fernand Cormon.
Fellow pupils included artists who were soon to break with Cormon's more traditional style, such as Émile Bernard and Louis Anquetin, becoming key figures in the radical reassessment of Impressionist form and technique in the mid to late 1880s, which later critics have chosen to describe as 'Post Impressionism'. Russell's most important friendship at Cormon's was that formed with the Dutch artist Vincent van Gogh, who arrived in February 1886, but who left the studio after only a few months.

It was his meeting with Claude Monet on the Breton island of Belle-Île in September 1886, however, that was to be a watershed moment in Russell's career, leading him from then on to employ the technical approaches of Monet and other Impressionists.

from ngv

tags