This series of posts previews the artists participating in the walking on water portfolio (WOW). This post features
Robin McCloskey and Kathryn Reeves


Low Tide
Robin McCloskey received her MFA in Printmaking from Pennsylvania State University. McCloskey's experimental work won the Gold Prize in Printmaking in the 8th International Print and Drawing Biennial in Taipei, Taiwan in 1997. She recently produced a series of large-scale prints at Trillium Press. This series of nine prints titled Sequoia Sempervirens was presented at the Sonnenschein Gallery in the Chicago Her work was also included in a collaborative portfolio titled Walking on Water, organized by Debra Fisher from SUNY-Brockport. Robin exhibits her work nationally on a regular basis and teaches printmaking throughout the state of California.
at
kala
-------------------------------------------------------


Wedding Night by Robin McCloskey

Wedding Night reminds us that seduction can mark the beginning of a much greater adventure. The tiny newlyweds in the right-hand corner stand in a fragile house, threatened by a turbulent sky and waves lapping at the doorstep. On closer inspection of this dark dreamscape, we notice that the background is full of playing cards—mostly hearts and diamonds (appropriately enough.) These cards imply that romance is part strategy, part chance. "The figures depicted are my grandparents on their wedding day," explains artist Robin McCloskey. "The playing cards, the nocturnal setting and the scarcely visible boat are intended to symbolize the mystery of the journey on which they are about to embark."
--------------------------------------------------------------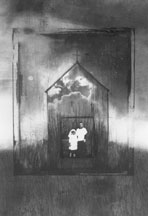 House of Memories: A detail from Robin McCloskey's "First Communion" demonstrates the photographer's use of a variety of techniques, including etching and aquatint, in a single piece

"In a somber, sadder-but-wiser vein, Robin McCloskey delivers the goods. In a series that stretches the definition of a photographic work to incorporate various combinations of photo-etching, etching, monotype, hand coloring and collage, McCloskey creates a sense of personal, internal experience nearly swallowed by a harsh and indifferent world."
-----------------------------------------------------


winter
---------------------------------------------

Lake Forest, Ill.— An exhibition of prints by nationally recognized artist Robin McCloskey will open in the Sonnenschein Gallery at Lake Forest College on Thursday, January 22, 2004 at 7:30 p.m.
The exhibition will feature McCloskey's Sequoia Sepiverens prints inspired by California's redwood forests. McCloskey combines hundred-year old print techniques, nineteenth-century photographic processes, and contemporary practices, including computer-manipulated imagery. This allows her to layer the present with the past, and the experimental with the traditional, in terms of content and technique. Many of her Sequoia Sepiverens prints measure 7' by 3' and hang like large scrolls, showing the influence of Chinese landscape painting. Art students from the College will curate the exhibit.
-----------------------------------

public art - whose art?
-------------------------------------------------
Kathryn Reeves: West Lafayette, IN

Kathryn J. Reeves is an Professor of Art at Purdue University. She received her B.F.A. in 1974 from Miami University of Ohio, studied drawing at Harvard University in 1975, and received her M.F.A. from Drake University in 1981. She has shown in over 100 international, national, and regional exhibitions, and her work is included in many public collections in the U.S. Her work was selected for inclusion in The Best of Printmaking: An International Collection, Quarry Books, Gloucester, 1997. At universities across the country, she has lectured and conducted workshops in lithography and intaglio printmaking. She has served on the faculties of Drake University and Iowa State University, and has worked at Harvard's Fogg Art Museum. She served on the Board of the Southern Graphics Council and is an elected member of the Society of American Graphic Artists. As well as serving from 1991-1994 as a Board Member, Reeves was the 1996-1998 President of the Mid America Print Council. The MAPC has an international membership and is devoted to research and education concerning fine art original prints. Reeves served on the Board of Directors of the American Print Alliance from 1997-1999.


"Schoolhouse"
Slate, chalk, found offset lithographs, and found objects



"A Little French Lesson"
Intaglio and Acrylic



"Mary Bowman's Copybook: Command You May Your Mind"
Monoprint, silk-screen, collage, ribbon
--------------------------------------------------------------------------

international digital miniature print