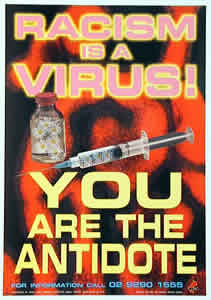 On Australia Day 26th January 1988, in the year of the Australian Bi-Centenary an alternative exhibition of Poster Art was launched in South Australia. The predominant use of fluorescent colour or the red, black and yellow derived from the Aboriginal flag, was combined with provocative and sometimes witty annotations or cartoon style imagery.
The impact of a poster art exhibition that focussed on indigenous Australia and was in opposition to other celebrations also maintains its significance. It provided the opportunity to reflect upon and to evaluate the worth of poster collectives to the role of debate in the public realm.
more http://john.curtin.edu.au/hazelhawke/posterart.html

See section on Further reading to find out more about poster art.

exhibition essay http://john.curtin.edu.au/hazelhawke/essay.html

--------------------------------------------


Political clout: Australian posters (extract)
Screenprints gave both activists and artists a means of direct expression
Images of dissent have flourished in Australia since the first years of European occupation: scrawled graffiti by convicts in Sydney, satirical wood engravings and etchings in nineteenth-century magazines and trade union banners – all highly public expressions of solidarity. While the twentieth century was the age of the printed image, those with alternative ideologies have not usually had access to advanced forms of printing technology. Instead, they have had to use other means, and screenprinting was one of the most effective. The equipment was easily manufactured, and large numbers of colour posters could be printed relatively cheaply. Screenprinting was practised commercially in Australia from the 1930s, but it was not until the late 1960s that artists capitalised on its potential as a political tool. By the 1970s, screenprinting was being taught in printmaking departments in art schools around Australia.

Many groups involved in the campaigns against the war in Vietnam began to produce posters. Chips Mackinolty, who would become a key figure in the radical poster movement, recalls his introduction to screenprinting at a centre known as 'Resistance' in Goulburn Street, Sydney. 'There was a room out back, perhaps 15 by 30 feet, where there was a screenprinting workshop . . . the meeting room was covered, late 1968, early 1969, with a multitude of posters that had been produced out of the Vietnam Action Committee and screw (The Society for Cultivating Revolution Everywhere)!'

During the 1970s, political poster groups and alternative print workshops formed in many Australian cities. Screenprints were a way of making art and expression available to the whole community. 'So long as art, in any of its forms, limits itself to the domain and interests of any one section of society, it will assist in the maintenance of social and economic divisions of that society,' writes Toni Robertson. She worked with Earthworks (see overleaf), the most widely known and influential poster group, which operated from the 'The Tin Sheds', a cluster of World War ii prefabs at the University of Sydney.

Feminists were active in poster groups: Matilda Graphics, Women's Domestic Needlework Group, Harridan Screenprinters and Lucifoil Posters
in Sydney; Bloody Good Graphics and Jill Posters in Melbourne. The Anarchist Feminist Poster Collective was an Adelaide group. Among other Melbourne groups were Permanent Red, Breadline and Cockatoo; the Poster Workshop was based
at Monash University, while the Wonderful Art Nuances Club worked from the Gippsland Institute of Technology.

By the end of the 1980s, teams such as Redback Graphix (see pages 44 and 45) were broadening their scope and diversifying their activities. The escalating costs and health risks of screenprinting and the arrival of desktop technology meant that it was no longer central. Many artists who were involved with the poster collectives moved into graphic design and few of the workshops survive. Green Ant Research and Arts and Publishing, in Darwin, is one of the exceptions. Its founder, Chips Mackinolty, continues to produce posters of power and conviction.