A wonderful way of travelling to Crete is via Athens.


athens to crete via ferry
A superb way of enjoying the journey to Crete is to fly to Athens and take the
ferry
from Piraeus (Pireas) - the port serving Athens.
Pireas* to
Heraklion
sailings take about
9 hours
on standard ferries (ANEK Lines),
6 hours
on the highspeed
Knossos Palace
and
Festos Palace
of the
Minoan Lines
fleet.
These
overnight
ferries arrive at their destination between 5.30 and 6.30 in the morning (the 6-hour capable ferries make use of their speed only in the extra daytime sailings).
Pireas to
Chania
, the ANEK Lines overnight ferries take 9 hours, whereas the
Highspeed
catamaran of Hellenic Seaways takes 4.5 hours and sails at daytime.
Pireas to
Rethymno
, is also served by ANEK Lines overnight ferries.
*Pireas is also spelled "Piraeus", and is Athens' port [
see Pireas map
]
Tickets
can be bought in advance for all ferries from Paleologos Shipping Agency via their website
www.ferries.gr

Athens guide from crete travel

------------------------------------------------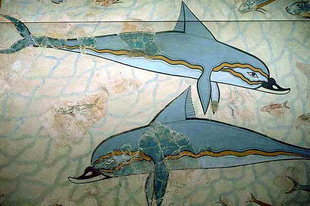 Knossos is 5km southeast of Iraklion.

Knossos is the site of the most important and better known palace of Minoan civilization. According to tradition, it was the seat of the legendary king Minos. The Palace is also connected with thrilling legends, such as the myth of the Labyrinth with the Minotaur, and the story of Daidalos and Icaros. The site was continuously inhabited from the Neolithic period (7000-3000 B.C.) until Roman times. The Linear B tablets (Mycenaean script) of the 14th century B.C. mention the city as ko-no-so.
Heraklion is the capital of Crete and of the prefecture of Heraklion. It is easily accessible from Athens by at least four flights a day.

The heraklion Archeological museum. This museum houses the most important collection of Minoan art and artefacts anywhere in the world. Twenty galleries on two floors display the exhibits in chronological order from the Neolithic Period to the Greco-Roman period. The magnificent Minoan frescoes are displayed in the upstairs rooms.


The complete guide to crete