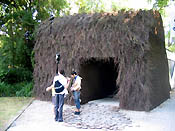 Gabríela Fridriksdóttir's Iceland pavilion
Festival Venice


by Walter Robinson



The 51st Venice Biennale, June 12-Oct. 8, 2005, is the first in 110 years to be overseen by women -- Maria de Corral and Rosa Martinez, two Spanish curators -- and the gods have kindly provided dazzling blue skies and perfect spring weather for the vernissage weekend.
De Corral and Martinez have somehow managed to quiet the macho spirit that often seems so integral to such global art gatherings. In its place, we have cheerful triumph of "festivalism," to use the term for the prevailing esthetic at such international art shows, popularized a few years ago (as an epithet) by New Yorker critic Peter Schjeldahl.

note artnet.de in German


La Biennale
The venice Biennale website