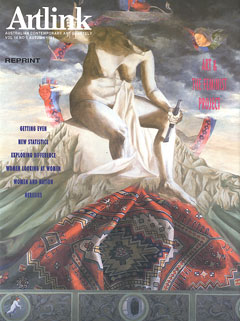 http://www.artlink.com.au/articles.cfm?id=740
Author: Dr Juliet Peers, feature

"

Women in Art must look to the future as they have no past

" said Mary Cecil Allen at an opening of the Melbourne Society of Women Painters and Sculptors in 1935.


Far from having no past, Australian women now confront many pasts, provided by both commercial and public galleries. Publications and exhibitions centreing upon women's art especially of pre-1945 vintage have proliferated since c.1991-1992.

Any consideration of women's art in Australia, contemporary or historic, must take into account this renewed emphasis upon exhibiting and promoting historic women's art. I append a considerable list of various events and publications.

Here is an interesting shift in curatorial philosophies since the 1980s. Women had no stated prominence in the major exhibitions generated by "official" celebrations of the Bicentennial. (1) Excellent pieces by various women were seen in Creating Australia, The Artist and the Patron or The Face of Australia, for example, but women's art practice was not a central or exclusive issue for any of these shows.
History, rediscovering, 'taking back' women's 'lost heritage', had been a staple of 1970s feminism. An article in Lip on the 1978 exhibition Women's Images of Women vividly documents the philosophies and emotions that forged 1970s 'feminist' art history. (2) Beyond the affirmations a certain tension arose between mainstream definitions and use of historic art and the independent curators/artists/feminists' search for 'founding mothers'.
m0re
++++++++++
All articles from this issue of Artlink