2006 Archibald Prize winner
Marcus Wills
The Paul Juraszek monolith (after Marcus Gheeraerts)
The Paul Juraszek monolith
was inspired by an etching called
Allegory of iconoclasm
by Marcus Gheeraerts the elder, a Flemish engraver, illustrator and painter best remembered as the illustrator of the 1567 edition of
Aesop's fables
. Wills saw the etching in a book whilst researching some paintings he was making based on the apocalypse and thought heÕd like to do something with it.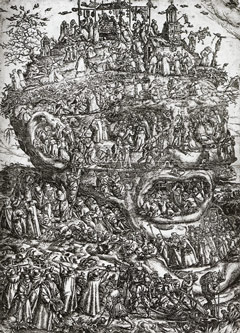 Marcus Gheerhaets the Elder, Allegory of Iconoclasm, c.1566 –1568
etching 15" x 10.4", British Museum, London
Casting around for a subject for his own version, Wills thought of Paul Juraszek whom he had met when they showed at the same gallery. Juraszek is a Melbourne-based sculptor, who makes mostly animals from myths and legends. "As it turned out he suited the subject even better than I could possibly have imagined," says Wills.
full story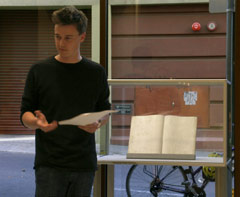 the artist speaks