"Were there any women pirates?"


The Exquisite Pirate 9 May - 7 Jun, 2008
Amelia Johnson Contemporary - Hong Kong

A rising star of the Australian art world, Sally Smart's work has been featured in numerous exhibitions in the Asia-Pacific region. In the last two years she has also debuted in New York and at Art Basel Miami to great critical acclaim. Smart's colorful wall assemblages of painted felt and other materials combine mixed-media collage, intellectual sampling, and historical references to create fractured, epic spectacles that are part fantasy, part social critique.



For her Hong Kong solo debut at Amelia Johnson Contemporary, Smart resurrects the history of female pirates in her series The Exquisite Pirate. The all-encompassing installation will transport viewers into a ghostly armada hovering on the gallery walls, accented by skull-and-crossbones and details such as an electric blue pirate flag whipping from the main mast and a bleached skeleton strung up from a ship's prow. In Smart's work, female pirates embody a history without a history.

Along with the strong visual impact of the imagery in Sally Smart's work, it is the richness of implication, triggering an array of conscious and subconscious associations, that gives her work its poetic resonance, depth and potency. A fiercely innovative voice in feminist and post-colonial art, Smart deftly handles weighty material with a light touch and is truly ready for world wide recognition.

http://www.ajc-art.com/artists/SallySmart/biography/

http://www.ajc-art.com/artists/SallySmart/page1/


download biography

========================
January 28 - February 25, 2006

"The Exquisite Pirate"
Postmasters Gallery is pleased to present the exhibition "The Exquisite Pirate" by Australian artist Sally Smart.

more info - press release
http://www.postmastersart.com/archive/sally06/sally06.html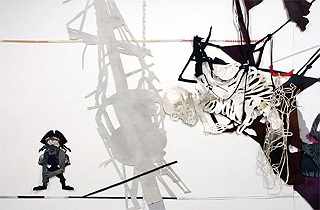 Artist's website
http://www.sallysmart.com/