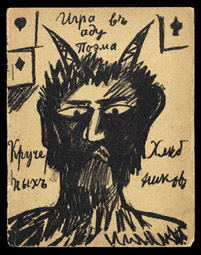 Tango with Cows: Book Art of the Russian Avant-Garde, 1910–1917

http://www.getty.edu/art/exhibitions/tango_with_cows/

Tango with Cows takes its title from a book and poem by the Russian avant-garde poet Vasily Kamensky. The absurd image of farm animals dancing the tango evokes the clash in Russia between a primarily rural culture and a growing urban life. During the years spanning the revolutions of 1905 and 1917, Russia was in spiritual, social, and cultural crisis. The moral devastation of the failed 1905 revolution, the famines of 1911, the rapid influx of new technologies, and the outbreak of World War I led to disillusionment with modernity and a presentiment of apocalypse.

This exhibition explores the way Russian avant-garde poets and artists responded to this crisis through their book art. Often working collaboratively, poets and artists designed pages in which rubber-stamped zaum' or "transrational" poetry shared space with archaic and modern scripts, as well as with primitive and abstract imagery. The Russian avant-garde utilized such verbal and visual disruptions to convey humor, parody and an ambivalence about Russia's past, present, and future.

Page through books (opens new window)
Read translations and hear poems spoken aloud in Russian.


View selected digitized books
(PDF downloads)

Download exhibition brochure (PDF, 305KB)
Curator's essay