Born in Sydney in 1885, Frank Hurley led a rough-and-tumble youth in Australia and ran away from home when he was 14 to work on the docks.
When he bought his first camera at the age of 17, he could not have imagined that his collection of striking and daring photographs taken around the world would go down in history.
Hurley made two voyages south as photographer with Douglas Mawson's Australasian Antarctic Expedition, 1911-1914. His official tasks included recording the life and scientific work of the expedition men.
On his trip with Ernest Shackleton's Imperial Trans-Antarctic Expedition, from late 1914 to 1916, the expedition vessel Endurance became stuck fast in the ice and was eventually destroyed. The crew moved first onto the sea ice and then to Elephant Island where they remained for over four months while Shackleton and five others sailed to South Georgia for assistance. When they abandoned the Endurance, Hurley had to leave behind 400 of his 520 glass negatives because they were so heavy.
In all, Hurley made six trips to the Antarctic.
You can now experience Frank Hurley's magical and expressive images for yourself. The colour photographs, held by atmitchell, are some of the rarest and most valuable images of Antarctica, taken using one of the first colour photographic processes called the Paget Colour Plate system.
Hurley's colour images record Shackleton's famous British Imperial Trans-Antarctic Expedition, 1914-1917, onboard the ill-fated Endurance.

------------------------------------------------------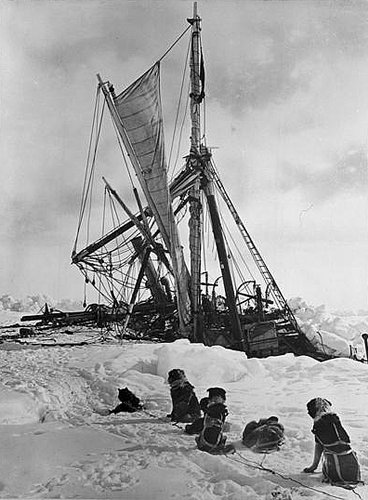 A young Australian photographer Frank Hurley accompanied Shackleton on the Trans-Antarctic Expedition to record events in motion and still pictures. Little was it realised when setting off exactly what an epic tale would be recorded and that amongst the film would be some of the Endurance itself being crushed and sunk by sea-ice. Shackleton had a deal with a London newspaper to sell his story and pictures on his return to England, a legacy of the difficulty in providing funding for the expedition. Hurley for his part planned to sell the photographs and film on his return, so there were pressing financial reasons to return with a good record as well capturing images of history in the making.
As a result almost every stage of the journey is recorded. Some of the photographs are presented here
tags